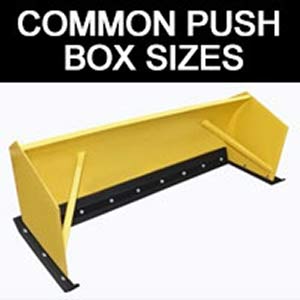 1"THICK x 6"wide - Rubber Plow Blade
w/ 1"wide x 3"long oval slots (centered) to allow for adjustment
Std. Slot Pattern is 6" from each edge and 12" on centers.
Custom Punching available at no extra cost.
Common Push Box Rubber 6in Wide x 1in Thick
Our Plow Rubber snow plow blades are specially formulated for the unique environment and wear that snow pushers are subjected to. They are black in color, 60-65 durometer, and are available in just about any width or length up to 50' long. They are made from a resilient SBR compound that can withstand the season's rigorous conditions. Its high tensile stock resists cuts and gouging for a longer lasting blade.
Available from 1" thick to 1.5" thick and up to any length needed. Punched and cut to your manufacturers dimensions for a perfect fit.
Benefits of Rubber Snow Plow Blades
Long Lasting: Our rubber snowplow edges are made of a tough, resilient rubber compound that shows very little wear after many hours of use. They can outlast steel edges many times. No Gouging: Rubber edges easily adjust to irregular road surfaces & pavement markers-without gouging. Rubber edges save you costly repairs to submerged lighting and surfaces such as cobblestone and brick.
Fast, Clean, Quiet Snow Removal: Our edges have a "squeegee action" to clean faster, better & much quieter than steel cutting edges.
Lower Maintenance Costs: Since our rubber snowplow edges need fewer replacements than steel edges, fewer man-hours & less down time means lower costs. Rubber edges also absorb damaging shock that would be transmitted to the plow, truck, and driver with a steel edge.
Less Damaging: Rubber cutting edges are less likely to rip out or damage submerged lighting. Less likely to damage road surfaces like concrete, asphalt, brick, and cobblestone.
Less Fatigue: Rubber cutting edges reduce driver fatigue and equipment wear by minimizing blade and equipment vibration.
Edge Sizing
The PlowRubber edges can be ordered to any length desired. We can supply a single edge or bulk lengths up to 50' long.
Standard sizes are:
1.5" thick X 8" wide
1.5" thick x 10" wide
1.5" thick x 12" wide
1"thick x 6" wide
1"thick x 8" wide
1"thick x 10" wide
Bolt Holes
Plow Rubber can custom punch to any hole pattern desired. Our standard hole is a 1" wide X 3-1/4" long oval slot, allowing for easy alignment and installation. We also have many smaller and larger slot sizes available at not extra charge. Just call us and we'll find the right size for your needs…WE DO NOT CHARGE EXTRA
Plow Rubber Material Grades
The Material used at PlowRubber.com is the best quality available, we do not produce products with commercial grade rubber. For additional information read on:
Industrial Grade
65 Durometer, 1000# Tensile Strength
Made from a resilient SBR compound that can withstand the rigorous conditions seen throughout the country. It has good wear characteristics, memory, and hardness to perform well in just about any application. It is a great cost effective cutting edge.
Premium Grade -- 100% U.S.A. Manufactured
65 Durometer, 2000# Tensile Strength
SBR (Styrene Butadiene Rubber) is a high tensile & abrasion resistant material. It is the same type of material that tire and conveyor belting is made from and will outperform most types of rubber in applications where there are high wear areas such as parking garages, cobblestone, and pressed concrete.
ULTRA Grade -- 100% U.S.A. Manufactured
65 Durometer, 2500# Tensile Strength
This is an extremely high tensile & abrasion resistant material and is a higher specification than any major manufacturer currently uses. It is manufactured with a much "purer" rubber which makes it extremely durable even in high wear areas and extreme cold (-30F). Our Ultra 2500 is a solution to the toughest applications and is the best available.
$ 110.00